Spring Planting Event 2018 – Let's Plant Rice Together
Since 2014, people from around the country join artists from various fields to create rice field art events to benefit the people of Soma and have fun planting rice. There are many different ideas about the issues the people of Fukushima are facing. One way to show support and find answers together is by planting rice. Please join us for this incredible community experience that is full of good fun, great conversation, and plenty of laughter. It is a unique chance to spend time in one of the prefectures loveliest places with great people. Come join us for this very special local event!
This events has finished successfully. Thank you!
スライドショーには JavaScript が必要です。
Detailed report of the event (Japanese)
---
Event Overview
Schedule
Saturday, May 19, 2018 (rain or shine!)
Schedule for the day
13:30 Reception opens
14:00 Opening ceremony. Rice planting starts
16:30 Rice planting ends.
18:30 BBQ party starts
20:45 Finish
Note: Based on the number of participants and traffic, the schedule may change.
Event entry fee
¥1,000 – includes event participation fee, event insurance
(Elementary school age and younger are free)
Please pay at the reception desk.
BBQ party fee
¥2,000 – includesBBQ and some drinks.
Please pay at the reception desk.
If coming by car:
Please fill out the event participation form to secure a parking spot.
* When you arrive at the site, staff will guide you to the parking lot.
Event participation form
To help us prepare, please fill out and submit the event participation form as soon as possible.
* It is not necessary to apply separately for the bus tour.
Things to bring:
Clothes for working in rice field and gloves
Rice planting boots (You can plant barefoot, but we don't recommend it for safety reasons. Also, ordinary rubber boots are unusable in the rice fields. We recommend wearing old socks or Tagutsu, a kind of boot specifically designed for rice field activities), and flip-flops (handy when you take a break during the event).
Sunscreen, sunglasses, hat, insect repellent, warm clothes (cold at night), wind breaker, rain gear
Special Rice Harvest Beer!
At the event, we will sell our special Rice Harvest beer brewed at the Tochigi Micro Brewery. Limited supplies are available, so don't miss your chance to try some!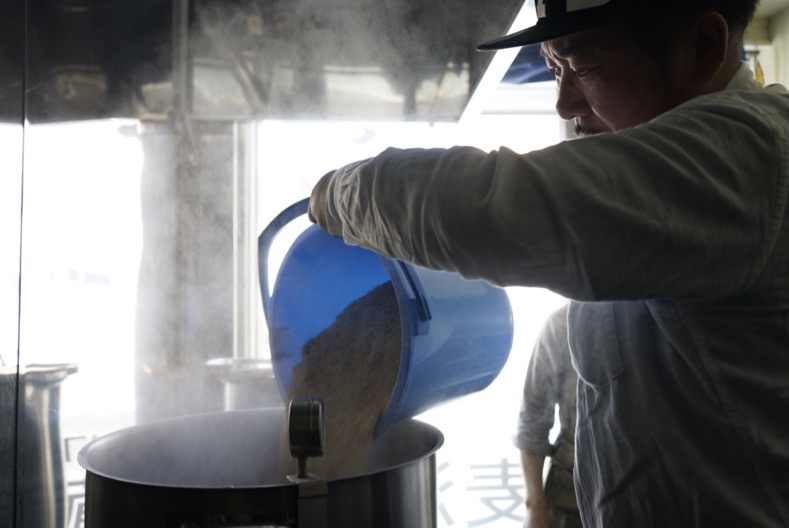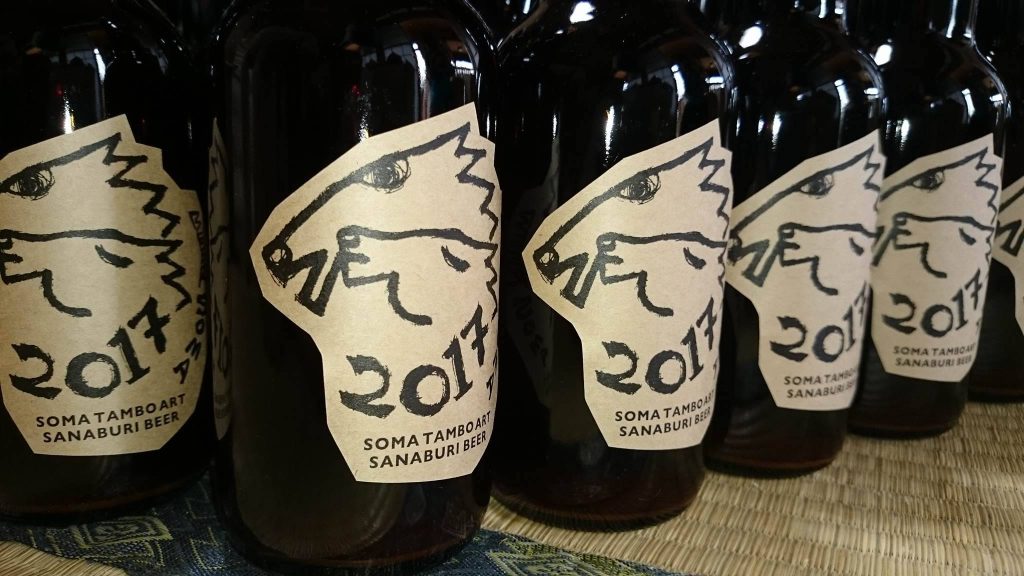 Bus Tour from Tokyo!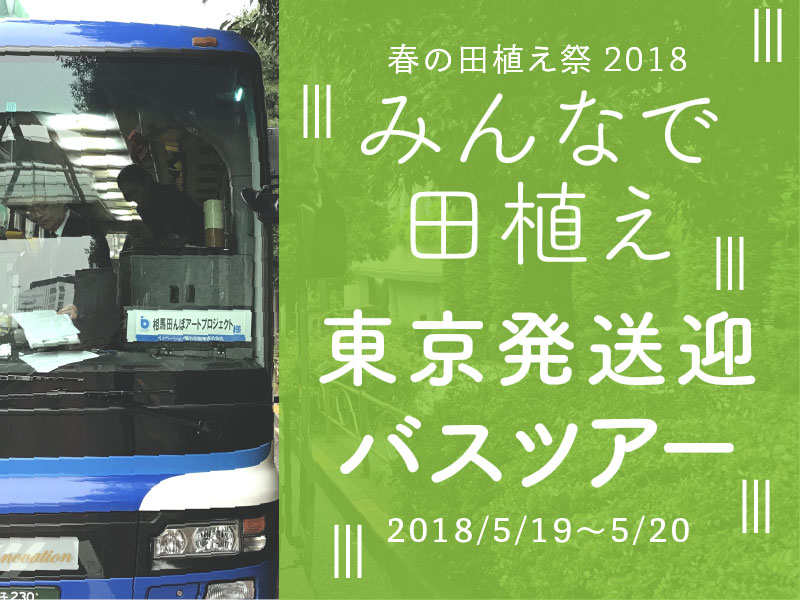 Thanks for your patience!
We will be organizing a bus tour from Shibuya, Tokyo, to the Tambo Art Rice Planting Festival.
Tour details
We will meet up near Shibuya station at 7:50 am on Saturday, 19 May. The bus will depart at 8:00 a.m.
We will return to the same place in Shibuya around 7:00 p.m. on Sunday, May 20.
Please note that lunch on Saturday, May 19 is not included. Please plan to bring your own or purchase it at one of the stops along the way to Soma.
Organized by: Soma Tambo Art Project
Travel planning and implementation: Dososhin Inc.
Tourism Agency Director Registration Travel Industry No. 757
KU Building 7th Floor 7-24-4 Nishi Gotanda Shinagawa-ku, Tokyo 141-0031
Number of spaces available: 45 people
Registration period:
April 15th, 2018 to May 13th, 2018
* Registration will end when all places are reserved.
Tour cost: 16,000 yen (including tax) – includes all of the following:
Transportation, accommodation, event participation fee, event insurance
Meals – Day 1 Dinner (BBQ party) – Day 2 Breakfast and lunch
Payment procedure
After receiving the reservation form, we will send a bank transfer receipt by email.
Please complete the transfer within three business days. As soon as payment is confirmed, we will send you an email with booking confirmation.
* Any transfer fees are the responsibility of participants.
* If you apply as a group, please make one transfer for everyone.
* If the transfer cannot be confirmed, your reservation may be cancelled.
Tour accomodation: Seifuso Onsen Hotel
We will be staying at the Seifuso Onsen Hotel on the Matsukawarura Sea in Soma, Fukushima. In traditional Japanese style, there will be separate group rooms for men and women. Towel and toothbrush are included. Please bring your own pajamas. Please also note that Western-style beds are not available.
Tour of Fukushima's current situation
We will take a tour of current reconstruction activities and progress in Fukushima on Sunday, May 20 on the return trip.
*Tour participants should be 18 years old and over.
---
Access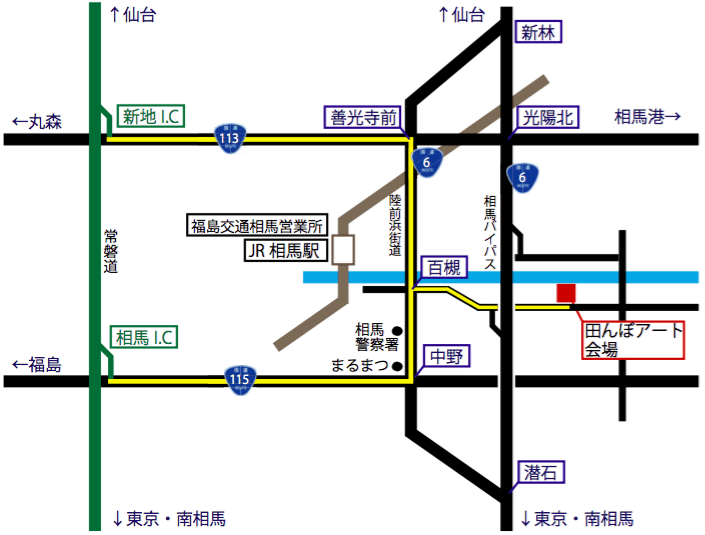 Venue:150 Kitainada, Iwanoko, Soma-shi, Fukushima (Google Maps)
Tel: 090-4889-0845
●Public Transport
JR Joban Line, Soma Station. Fukushima Kotsu Bus, Soma Eigyosho Stop.
●Bus from Fukushima Station
Fukushima Station 10:45 →Soma Eigyosho Stop 12:17 (Fukushima Kotsu Bus)
●お車でお越しの方(駐車場あり)
常磐道相馬I.C→国道115号を相馬市街方面1.8km→中野交差点左折→国道6号線を仙台方面0.4km→百槻交差点右折→岩子方面へ2.3km→会場(約16分)
常磐道新地I.C→国道113号を相馬港方面4km→善光寺前交差点右折→国道6号線をいわき方面5km→百槻交差点左折→岩子方面へ2.3km→会場(約20分)
---